New Lisbon is located on the beautiful Lemonweir River in central Wisconsin.
Utility Office
The Utility Office handles all billing and collections for the electric, water and sewer. Also handles filing of all State and Federal reports.
Pay Utility Bills Online or by Phone
Electronic Payment of City of New Lisbon Utility Bills or Property Tax Bills.  Link on the home page or 877-885-7968.
After authorization of your payment, you will be given a confirmation number that you should keep for your records.
There will be a nominal fee charged for this service.
Payment Services Provided By: Payment Service Network Inc.
Water and Sewer Utility
The Water & Sewer Department is responsible for the operation and maintenance of the wastewater treatment plant, collection system, water wells and all water mains within the City of New Lisbon.
Water System Information - If you would like to know more about the information contained in this report, please contact Nick Wyss or Joe Willard at (608) 562-3794.
New Sewer Rates approved by Common Council on Feb 21, 2022.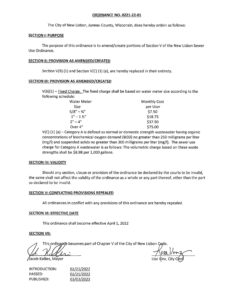 Electric Utility
The Electric Department is responsible for the construction and maintenance of the City of New Lisbon electric distribution system. They also operate and maintain the powerhouse. The City's Electric Department presently has a contract with Dairyland Power Cooperative to supply electric to the City and we are required to generate electric periodically as part of the contract.
Focus On Energy
New Lisbon Municipal Electric & Water Department is now a member of Focus on Energy. Focus on Energy works with eligible Wisconsin residents and businesses to install cost effective energy efficiency and renewable energy projects. Focus information, resources and incentives help to implement projects that otherwise would not be completed, or to complete projects sooner than scheduled. Its efforts help Wisconsin residents and businesses manage rising energy costs, promote in-state economic development, protect our environment and control the states growing demand for electricity and natural gas.