New Lisbon Riverside Park Campground –
Wa Du Shuda Days 2021 dates are July 9th & July 10th.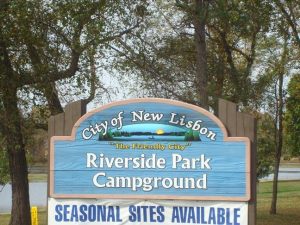 Our campground offers 50 clean and spacious campsites. Many sites along the scenic Lemonweir River. Tent camping is also available in separate area of the campground with many sites available. Boat ramp is located in the campground for easy access to the great fishing on the Lemonweir River and Little Lemonweir River.  Camp in our campground and avoid the crowds of the Wisconsin Dells which is only 20 minutes away. There are two large pavilions on site for rental for your party or group entertainment. Reservations available.  During the season call 608-562-3534.  Off season number 608-562-5213.
Municipal Swimming Pool

2020 Pool Closing will be Sat Aug 22nd.  With guards going back to school, this will be the last open day for this season.    
The City maintains a 220,000 gallon outdoor swimming pool with 2 diving boards and a depth of 3 foot to 12 foot. Also a children's wading pool. The pool is normally open from beginning of June to end of August, seven (7) days a week. Family and birthday parties' space is available. Season passes will be sold at City Hall beginning in the spring season. The City offers swimming lessons for all ages. Special events are being planned for the swim season. The pool is located at 419 S. Division Street. Call 562-5450 for information and your season pass.